1 - some thing that is not an English lead seal, coat of arms with the back rest under the eagle crown of the Holy Roman Empire, lead is from a city of the empire (Germany, Belgium, Netherlands ,France).
2 - the arms are under the eagle crest of alliance (Personal arms - not town's armouries) associating a size shield with a herniated shield bearing the same colors (I have not found similar armouries). between a merchant's probably monogram.
3- Rose may be a reference to the product (like english lead seal), as can find it on a lead from the city of Alkmaar with the association: pink / Alkmaar arnouries) see :
http://wf4.nl/Engels/paginaSjoerd/sjoerdlakenlodenengels.htm#lood2
4 - Rose can also be the emblem of a city, there are many in Germany and other countries :
Rosendaal (gelderland NL)
- Dielfurt, Eldagsen, Geisligen, Gochsheim, Lippstadt,Lucka, Marktschorgast, Otweiler, Rosenfeld, Rosenheim, Vierraden, Wldenberg in Germany.
- Haguenau in Alsace, France.
Lippstadt and Eldagsen  are possible because they were the era of major trading centers.
See also the coins of Haguenau combining the eagle of the Holy Empire with the rose :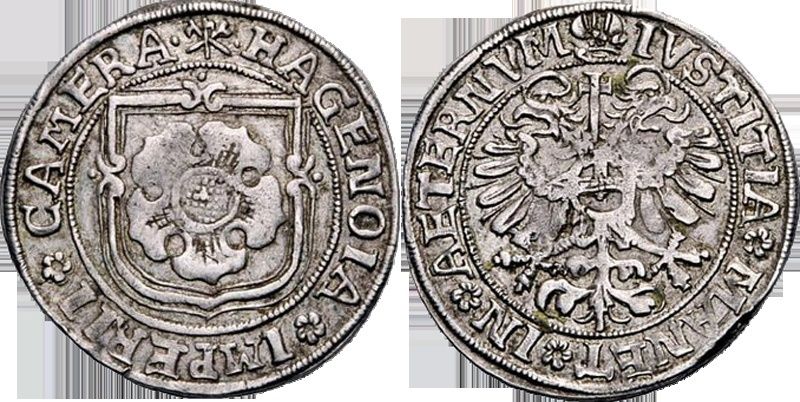 This will not be easy to make a certain attribution, it would find the arms listed under the eagle


Dernière édition par Admin le Mer 2 Mar - 22:50, édité 1 fois
Permission de ce forum:
Vous pouvez répondre aux sujets dans ce forum